Measures to increase income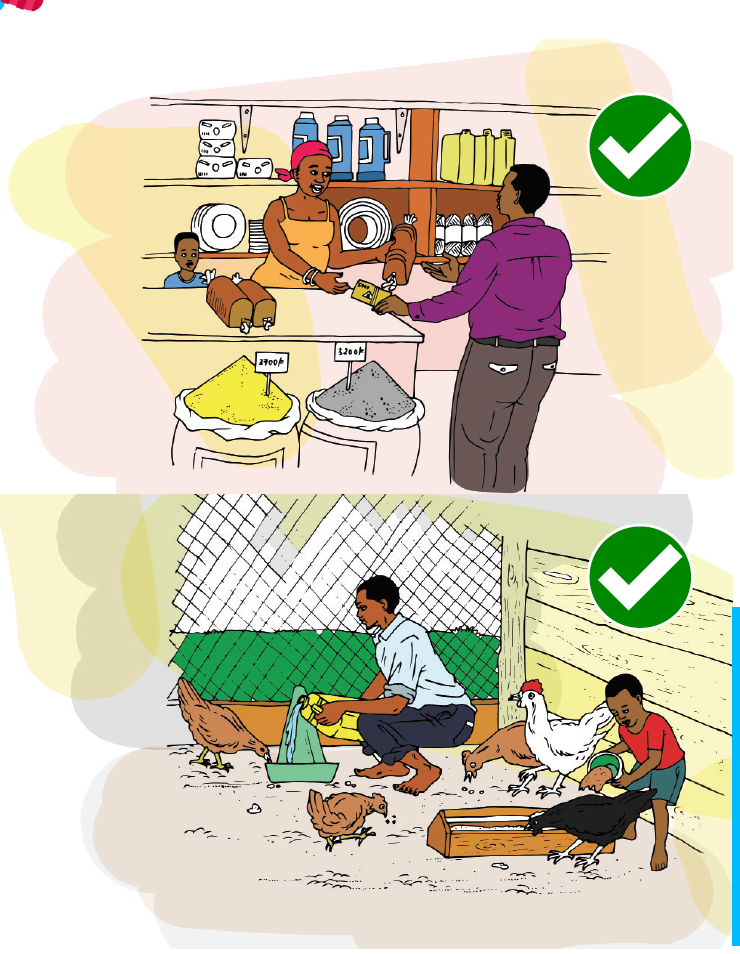 Both parents should secure independent and sustainable income
Both parents are responsible for taking care of their children. This requires financial support for things like school fees, clothing, food, shelter etc. After separation, people's financial situation changes. They might struggle to generate enough income. It is therefore recommended that both sides should generate income by starting a small side business or to seek better employment opportunities. The goal is to provide a stable situation for the whole family.
Legal base
Uganda Constitution, Article 32 Clause 4
Abazadde bombi balina okufuna engeri eyingiza mu ssente esobola okweyimirizaawo.
Abazadde bombi balina obuvuanyizibwa okulabirira abaana babwe. Kino kyetagisa obuyambi bwa ssente z'ebintu ng'ebissale by'essomero, eby'okwambala, eb'okulya, aw'okubeera n'ebirala. Oluvanyuma lw'okwawukana, eby'enfuna by'abantu bikyukakyuka mu. Bayinza okutawaana mu kko mukuyingiza ssente eziwera. N'olwekyoo enjuyi zombi zrina okuteekawo engeri y'okuyingiza ssente ng'okutandikawo bizineesi oba okunoonya emirimu egyisasula okusingawo. Ekigenderewa g'emaka okubeera nga matebenkevu mu by'enfuna. 
Okusinziira mu mateeka 
Ssemateeka w'eggwanga lya Uganda ey'omwaka lukumi mu lwenda kyenda mw'etaano (1995) Akawayiiro ak'assatu mu bbiri (32) akanyiriri ak'okuna (4). 
What practitioners say
Consistent with literature search:
Both parties should contribute financially. Both parents should contribute financially to the family. This can build a sense of responsibility and ownership.
Try to generate new sources of income. People can start a business.
Support each other. Both parents may struggle at times with their work or businesses. They should feel responsible for each other and their children's well being.
Make sure agreements benefit the whole family. Parents should be encouraged to agree on the family business or other sources of income in ways that benefit the entire family.
Specify sources of income – such as livestock, vegetable and fruit businesses, retail shops etc.
Other suggested practices:
Manage finances together. Both parents should be involved in the planning, budgeting, management and evaluation of finances during the marriage.
Set up a family fund. Families should set up funds that they manage together. They should take a planned and strategic approach to manage housing, education etc.
Save and invest. Create a culture of saving and investing in the family and have a shared responsibility.
Create women support groups. Groups that focus on helping rural women to generate side income can help families to have more stable finances.
---
Ziri ku mulamwa n'okunonyereza okuli mu biwandiiko: 
Enjuyi zombie zirina okuleeta ku ssente. Abazadde bombi balina okuwaayo ssente okuyimirizaawo amaka. Kino kireetawo engeri y'obuvunanyizibwa n'okukwatira awamu. 
Gezaako okuteekawo engeri empya ez'okuyingiza mu ssente. Abantu basobola okutandikawo bizineesi. 
Okuyambagana. Abazadde bombi bayinza okutawaana ku mulimu oba mu bizineesi oluusi. Balina okubeera nga bakwatibwako ku bulamu bwabwe nga bbo n'obwabaana. 
Kkakasa nti enzikiriziganya ziyamba amaka gonna. Abazadde nalina okukubirizibwa okukiriziganya ku bizineesi gye bagenda okukola oba engeri endala eziyingiza ssente ezigasa amaka gonna. 
Lambulula ebintu ebiyingiza ssente – okugeza ng'okulunda ebisolo, okutuunda enva endirwa, ebibala amadduuka, n'ebirala. 
Ebirala ebiyinza okukolebwa: 
Ssente bazikwate bombi. Abazadde bombi balina okwenyigira mu kutegeka, okubalirira, okuddukanya n'okulondoola ssente mu bufumbo. 
Mukunnganye ssente z'amaka. Amaka galina okuteekawo amaterekero ga ssente nga bagaddukanya bombi. Balina okuteekawo enkola ey'okuddukanya aw'okubeera, eby'okusoma, n'ebirala. 
Mutereke ssente era muzikolemu ebyegassa. Mutekeewo enkola etereka ssente n'okuziteeka mu bizineesi ezigassa nga mukolera wamu. 
Muteeke wo obubinja obuyambako abakyala. Obubinja obussa essira ku kuyamba abakyala b'omu byalo okusobola okuyingiza ssente ku bbali busobola okuyambako amaka okubeera n'eby'enfuna ebitebenkedde. 
Resources and Methodology
During the orientation process of the available literature, we were able to identify the following interventions:
Active measures [with the goal to generate more income]
Generate more working hours
Self-employment
Migration to areas with better employment opportunities
Other [passive] measures
Applying for and receiving public assistance
Remarrying
Cutting back on expenditures
Financial resources are an important factor in the adaptations families make. Families save up in good times, and spend savings or borrow in bad. Families who do not have such savings, will not be able to do this (Yuen & Hofferth, p. 7). The analysis done by Yuen and Hofferth distinguishes between active measures (e.g. migration and increasing partner's work effort) and other measures (e.g. relying on public assistance) (Yuen & Hofferth, p. 7 and 25). Families with substantial income and assets and those who live in low unemployment areas tend to take active measures, whereas families with little resources or in high unemployment areas are likely to rely on public assistance, remarriage or cutting back on expenditures (Yuen & Hofferth, p. 25). For purpose of the PICO question, we compare active (which generate more income) and passive measures, as the available literature makes, a distinction between these two strategies in overcoming post-divorce financial distress.
For families, is taking active measures with the goal of generating more income more effective than taking passive measures, for their financial well-being?
The databases used are: HeinOnline, Westlaw, Wiley Online Library, JSTOR and Taylor & Francis.
For this PICO question, keywords used in the search strategy are: divorce, income, increase, decrease, financial, economic, income-generating activities, financial adjustment, financial distress.
The main sources used for this particular subject are:
Wei-Jun Jean Yueng and Sandra L. Hofferth, Family Adaptations to Income and Job Loss in the U.S. (1998)
Linda Scott, Catherine Dolan, Mary Johnstone-Lous, Kimberly Sugden, Maryalice Wu, Enterprise and Inequality: A Study of Avon in South Africa (2012)
Caroline Dewilde and Wilfred Uunk, Remarriage as a Way to Overcome the Financial Consequences of Divorce- A Test of the Economic Need
Hypothesis for European Women (2008)
Naila Kabeer, Gender equality and women's empowerment: A critical analysis of the third millennium development goal 1 (2005)
These sources are largely based on empirical studies. Evidence can be regarded as being low.
Desirable outcomes
One of the indicators to measure gender equality and women's empowerment is the increase of women's share of wage employment (Kabeer, p. 1). Paid work has the potential to shift the balance of power within the family. It also leads to a long-term reduction in domestic violence, as well as an increase in women's assets (Kabeer, p. 18). In some cases, women's participation in wage employment has allowed them to have greater economic independence and even to escape abusive marriages (Kabeer, p. 19).
Geographic migration has been viewed as a means of improving the allocation of human resources (Yueng & Hofferth, p. 5-6).
Undesirable outcomes
Seeking public assistance is stigmatizing and is seen as only a short term-option (Yueng & Hofferth, p. 24).
When it comes to cutting back on expenditures, cutting food expenditures points to the possibility of deteriorating living conditions that may threaten the survival of family members. (Yueng & Hofferth, p. 24).
Operating within a social setting unfriendly to women will be challenging due to, for example, pervasive violence. Women might encounter difficulties in running a door-to-door business in a country where no one opens the door out of fear. Moreover, women moving about to make sales, deliver products and meet teams are easy targets for such predators (Scott. et al., p. 562).
Migration to an area of better employment opportunities may weaken the family's support network and detract from children's school progress (Yueng & Hofferth, p. 24).
Balance of outcomes
In determining whether taking active measures with the goal of generating more income is more effective than taking passive measures, for the financial well-being of persons, the desirable and undesirable outcomes of both interventions must be considered.
An analysis of the outcomes shows a lack of consensus regarding which measure works. Research shows difficulties with using these strategies particularly due to national contexts. A suitable option is arguably exploring active measures because of efforts by divorced spouses to become self-supporting and self-sufficient.
Recommendation
Taking into account the balance towards the desired outcomes and the strength of the evidence, we make the following recommendation: Taking active measures to generate more income is more effective than taking passive measures for the well-being of families.
Please send us your feedback
You might also be interested in: