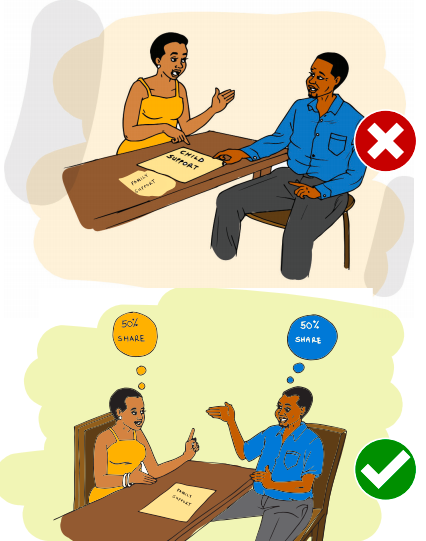 Parents should provide support to the other spouse until both become self-sufficient and independent
Spousal maintenance are agreements where one of the parties provide financial support. Agreements that provide financial support for a limited time until both sides are able to support themselves are recommended. This type of maintenance is known as non-permanent and it can help both parents to become more empowered. Permanent spousal maintenance is where the agreement is to continue providing financial support indefinitely, which can cause dependency.
Becoming self-sufficient and financially independent of the former spouse is important, as long as it does not negatively affect the children.
Abazadde balina okuyambaganako okutuusa nga buli omu asobola okweyimirizaawo n'okwemalirira okwawukana bwekubeera kubaddewo.
Obuyambi bwa munne z'enteekateeka ezikolebwa ng'oluuyi olumu luwa munne obuyambi bwa ssente. Enteekateeka z'okuwa obuyambi bwa ssente okumala akaseera okutuusa ng'enjuyi zombie zisobola okweyimirizaawo zisobola okukolebwa. Kuno kulabirria ssi kwaluberera era kusobola okuyamba abazadde bombi okwetereeza. Okuyambako munne okw'oluberera y'enzikiriziganya y'omu oklabirira munne paka paka, ekiyinza okuleteera omulala obutasobola kwetengerera. 
Okubeera ng'osobola okweyimirizaawo nga ne mu bya ssente wemalirira kikulu nnyo kasita tekikosa baana. 
What practitioners say
Consistent with literature search:
Quantify income levels. Make sure to create an inventory of the declared income levels, assets and contributions of the man and woman in order to be able to reach fair agreements.
Consider non-monetary contributions. For calculating spousal maintenance, consider non-monetary as well as monetary contributions.
Involve a neutral third party. A neutral practitioner can help to assess the income support level that is needed.
Parties should help each other financially. The party with better financial standing should support the other – taking the interest of the child into consideration.
Other suggested practices:
Involve others who know the situation. Involve extended family, local leaders or other appropriate community members to provide insight.
Local leaders can help enforce agreements. Local leaders such as religious leaders and elders can help to enforce agreements, especially if there's a breach.
---
Ziri ku mulamwa n'okunonyereza okuli mu biwandiiko: 
Ppimamu emikko egyiyinga ssente. Kkakasa nti obalamu mu mkko egyiyingiza ssente, eby'obuggaga na biki omwami n'omukyala bye bageenda okuleeta olwo mulyoke mutuuke kunzikiriziganya ez'obwenkanya. 
Lowooza ku bintu ebikalu ebisobola okuleetebwa. Okusobola okubalabalamu obuyambi obuwebwa munne, lowooza ku buyambi obutali bwa ssente n'obwa ssente. 
Yingizaamu omuntu omulala. Omuyambi atalina kyekubira ayinza okuyambako okubalabalamu obuyambi obwetagisa bwebwenkana. 
Enjuyi zirina okuyambagana mu bya ssente. Oluyi olina ssente okusinga lulina okuyambako munne – ng'ebyetaago by'omwana birowoozebwako. 
Ebirala ebiyinza okukolebwa: 
Yinngizaamu abo abamanyi ku mbeera. Yingizaamu ab'eganda, abakulembeze b'okukyalo oba abantu abalala abetaagisa okusobola okuyambako. 
Abakulembeze b'okukyalo bayinza okuyambako okuteeka enzikiriziganya mu nkola. Abakulembeze okugeza nga banaddiini oba abakadde bayinza okuyambako okuteeka enzikiriziganya mu nkola, naddala nga waliwo okussikatira. 
Resources and Methodology
During the orientation process of the available literature, we were able to identify the following interventions for spousal maintenance:
Non-permanent spousal maintenance:

Rehabilitative spousal maintenance
Limited duration spousal maintenance

Permanent spousal maintenance
Rehabilitative spousal maintenance provides a former spouse with support for a limited period of time to allow for the development of the skills, training, or education necessary for self-support. It presupposes the existence of a future capacity for self-support (Greene, p. 9) and is designed to improve the recipient's employment prospects (Shehan et al, p. 310).
Limited duration spousal maintenance (also known as transitional support) is periodic maintenance or terminable maintenance; an amount regularly paid to a recipient for a fixed period. This form of maintenance is meant as a financial buffer to help the former spouse become self-supporting during the period of transition from married life. If the recipient is not self-supporting and cannot become so, limited duration alimony may not be awarded. Limited duration spousal maintenance is not modifiable and cannot be discontinued even if the recipient remarries within the repayment period (Shehan et al, p. 310).
Permanent spousal maintenance is awarded as the primary source of support for the recipient (Greene, p. 9). A modification is permitted upon showing a change in the circumstances of the parties. If a spouse who has been awarded permanent alimony subsequently becomes self-sufficient, termination or reduction of the permanent alimony award normally follows (Greene, p. 14). The duration of a permanent award is generally until the death or remarriage of the recipient. Permanent spousal maintenance is most likely to be provided when the recipient is aged, infirm, or unable to be self-supporting. The amount of the award is based on the level of financial need and the standard of living enjoyed in the marriage (Shehan et al, p.310).
For the purpose of this PICO question, we compare permanent spousal maintenance with the two other forms of nonpermanent spousal maintenance: Limited and rehabilitative spousal maintenance. Limited and rehabilitative spousal maintenance both focus on self-sufficiency, while permanent spousal maintenance does not.
For separated spouses, is non-permanent spousal maintenance more effective than permanent spousal maintenance post-separation?
The databases used are: HeinOnline, Westlaw, Wiley Online Library, JSTOR, Taylor & Francis, Sabinet, LexisNexis.
For this PICO question, keywords/phrases used in the search strategy are: alimony, spousal maintenance, spousal support, divorce, awarding of alimony, income measures.
The main sources used for this particular subject are:
Jean van Houtte and Corinne de Vocht, The Obligation to Provide Maintenance between Divorced Husband and Wife in Belgium (1982)
Cynthia L. Greene, Alimony is Not Forever (1988)
Constance. L. Shehan, Alimony: An Anomaly in Family Social Science (2002)
Twila B. Larkin, Guidelines for Alimony: The New Mexico Experiment (2004)
These sources include observational and empirical studies. According to the HiiL Methodology: Assessment of Evidence and Recommendations, the strength of this evidence is classified as 'moderate'.
Desirable outcomes
Research shows that efforts by the supported spouse to remain or become self-supporting and independent of the former spouse are favoured. Limited and rehabilitative maintenance focus on the recipient parent becoming self-sufficient (Greene, p. 11; 22-23; Shehan et al, p. 310).
Rehabilitative spousal maintenance is needed particularly for women who entered marriage under a very different set of rules, for example where they abandoned their own jobs and careers to the expected, traditional roles of mother and wife. In those years in which they would have developed job skills and careers. Such women were unable to attain or incapable of attaining self-sufficiency (as cited in Greene, p 13). Rehabilitative spousal maintenance can assist them to develop their own lives.
Spousal maintenance would be appropriate:
Where the recipient abandoned her job and career to fulfill the expected, traditional roles of a mother, wife and hostess… (as cited in Greene, p. 13)
Where there are minor children under the age of five and it is not practical for the recipient to generate income in excess of work-related child-care costs, or both parties are committed to one parent remaining home with the child(ren) (Larkin, p. 53).
Undesirable outcomes
Permanent spousal maintenance presumes that the recipient cannot become self-sufficient (Greene, p. 9). However, some recipients might come to rely on these payments rather than taking the initiative to obtain additional training or education, a job or resume a career (Shehan et al, p. 309).
Permanent payment might keep alive the hostility. Maintenance could alter the post-marital distribution of power between spouses. For example, when bitterness grows between the separated litigants, one party often seeks to have the other punished for their failure to pay maintenance (Shehan et al, p. 309).
Balance of outcomes
In determining whether non-permanent spousal maintenance is more effective than permanent spousal maintenance post-separation, the desirable and undesirable outcomes of both interventions must be considered.
Permanent spousal maintenance is appropriate only where the recipient is unemployable. Rehabilitative or limited duration spousal maintenance is appropriate in the event of a need for maintenance and should be awarded until the recipient becomes self-sufficient, implicitly requiring the former spouse to make reasonable efforts to become self-sufficient.
Accordingly, non-permanent spousal maintenance is more effective than permanent spousal maintenance.
Recommendation
Taking into account the balance of outcomes, including, the effect on former spouses' well-being (in particular self-sufficiency) and the strength of the evidence, we make the following recommendation: Non-permanent spousal maintenance is more effective than permanent spousal maintenance.
Please send us your feedback
You might also be interested in: