Fair living arrangements for children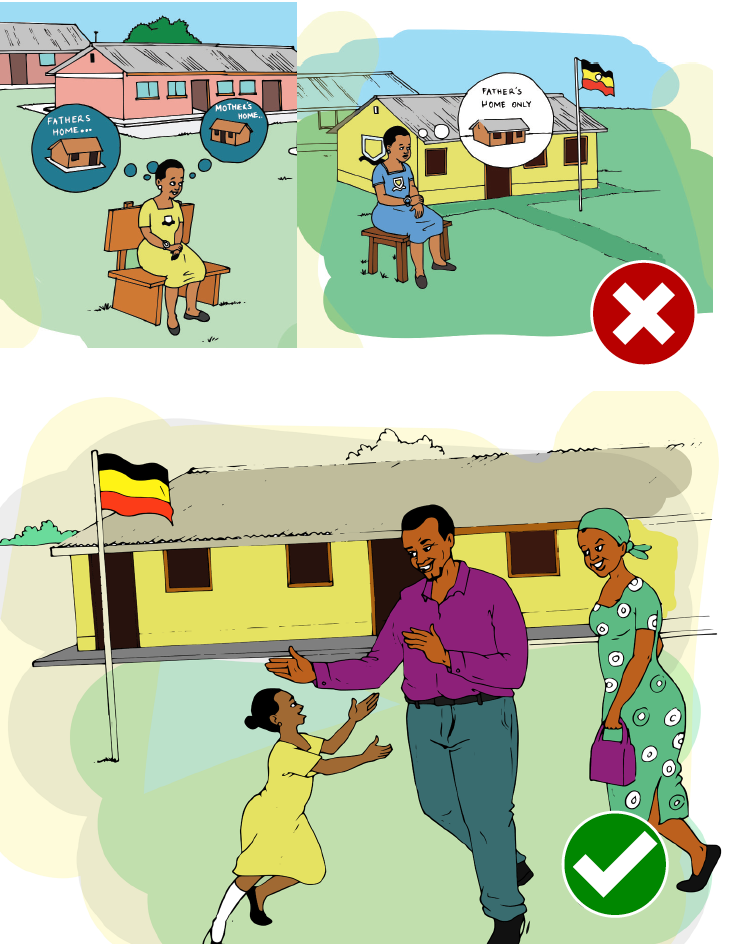 This section provides recommendations on fair living arrangements for children, for example in case of separation. They are intended to provide better social development and academic achievements. The recommendations are divided into 3 separate age categories, reflecting the different needs of the age groups.
Infants and toddlers (0-4 years old). For children it is important to be able to stay at both their parents' houses. This enhances emotional involvement of parents with their children, which benefits the parent-child relationship. Close family relationships are essential to the wellbeing of the entire family.
Young children (5-9 years old). Both parents should support and have contact with their children during school week (Monday to Friday). This is beneficial to children's academic achievements and wellbeing.
Adolescents (10-18 years old). Children should have a home at both their parent's houses. International research suggests that shared residency adolescents are better off academically, emotionally and psychologically compared to sole residence children.
It must be ensured there is no indication or history of violence. If there is a risk of violence or abuse, this intervention is not recommended.
There should be a suitable housing situation and willingness from both parents to engage in such an arrangement.
Ekitundu kino kiwa okulungamizibwa ku nteekateeka z'aw'okubeera w'abaana singa wabeerawo okwawukana. Ekigendererwa kwekuwa aw'okubeera n'eby'okusoma ebirungi. Okulungamizibwa kugabanyiziddwamu emitendera essatu okusinziira ku myaka n'ebyetaago by'egyo emyaka. 
Amabujje (okuva ku myaka enna (4) egy'obukulu okudda wansi). Kikulu nnyo amabujje okuba nga gasobola okubeera ew'abazadde bombi. Kino kibayambako okuzimba enkolagana yabwe n'abazadde. Ab'enganda ab'omunda bayambako nnyo ku bulungi bwa buly'omu mu maka. 
Abaana abato (okuva ku myaka etaano (5) okutuuka ku mwenda (9) egy'obukulu). Abazadde bombi balina okuyamba era n'okulaba abaana babwe mu nnaku 
z'okusoma (okuva ku bbalaza okutuuka ku lw'okutaano (5)). Kino kiyambako nnyo kungeri omwana gy'akola mu ku ssomero n'okubeera obulungi okutwaliz'awamu. 
Abavubuka abatto (okuva ku myaka kkumi (10) okutuuka ku myaka kkumi na munaana (18) egy'obukulu). Abaana balina okuba n'aw'okubeera mu maka g'abazadde babwe bombi. Okunoontereza mu mawanga amalala kulaga nti abavubuka abatto bakola bulungi mmu kusoma n'embera zabwe zonna bwebabeera n'aw'okubeera mu maka g'abazadde babwe bombi okusinga abo ababeera ew'omuzadde omu. Kirina okukkasibwa nti tewabeera ngako kulwana mu maka. Bwewabeerawo okutya kw'okulwana, eno engeri y'okutaasa tekkolebwa. Walina okubeerawo aw'okubeera awalungi era abazadde bombi balina okuba nga baagala okwenyigira mu nzikirizigany'eno. 
What practitioners say
Consistent with literature research:
Encourage active (emotional) involvement. Both parents should be encouraged to play an active role in the lives of the children. This includes attending school, emotional support and help with homework.
Both parents should agree on visitations. Both parents should be well-informed about any visitations when they are happening.
Parents should provide oversight. Parents should have control over their children and be aware of where their children are and what is happening in their lives.
Involve a neutral decision-maker. In case parents cannot agree together in mediation, they should involve a neutral third party to make a decision for them.
Ongoing follow-up and after-care. Ensure that arrangements are working and that agreements are being respected.
Other suggested practices:
Ensure both homes are safe and child-friendly. In cases where there is a risk of domestic abuse towards children by parents or new spouses, children should be removed until it is safe again.
Involve role models where needed. For example, in cases where one parent is unwilling to play a significant role, a respected role model can intervene.
Ensure there is close contact with both parents. Young children should not necessarily be in boarding schools. They should stay in the family home until a reasonable age. If they are in boarding school then both parents should visit regularly and be involved.
Involve children's needs in decisions. Children's wishes on living and visiting arrangements should be considered.
---
Ziri ku mulamwa n'okunonyereza okuli mu biwandiiko: 
Kkubiriza okwenyigiramu. Abazadde bombi balina okubeerawo mu bulamu bw'abaana babwe. Kino kizingiramu okugenda ku ssomero, okubayamba nga bbo n'okubayambako mu waaka avudde ku ssomero. 
Abazadde balina okukiriziganya ku kukyalira abaana. Abazadde bombi balina okutegezebwa ennaku z'okukyalirako abaana ddi lwezinabeerawo. 
Abazadde balina okufaayo ku bigenda mu maaso ku baana. Abazadde balina okubeera mu mitambo era nga bamanyi wa abaana babwe gyebali na biki ebigenda mu maaso mu bulamu bwabwe. 
Ffuna yo akola okusalawo atalin kyekubira. Singa abazadde balemererwa okukiriziganya mu kutabaganya, balina okufuna omuntu omulala atalina kyekubira okubasalirawo. 
Okubakebera ngako. Kakkasa nti enteekateeka zibakolera era enzikiriziganya zigobererwa. 
Ebirala ebiyinza okukolebwa: 
Kkakasa nti amaka gombi matebenkevu era abaana basobola okubeeramu. Ssinga wabeerawo okutulugunya abaana okukolebwa abazadde oba baganzi babwe, abaana bagyibewo okutuusa nga watebenkedde natte. 
Ffuna yo abantu abaana bebayinza okuyigirako ssinga kibeera kyetagisiza. Okugeza, singa omuzadde omu tayagala kubeera mu bulamu bw'abaana, omuntu abaana gwe bayinza okuyigirako asobola okuyambako. 
Kkakasa nti waliwo okubeera okumpi n'abazadde babwe. Abaana abatto tebetaagisa kubeera mu masomero ga bisulo. Balina okusigala ewaka okutuusa ku myaka egyegasa. Bwebabeera nga bali mu kisulo, abazadde bombi balina okubakyalira buli kaseera era n'okwenyigira mu. 
Lowooza ku byetaago by'abaana ng'okusalawo kukolebwa. Ebyetaago na biki abaana bye baagala ebikwata ku w'okubeera n'ennaku z'okulaba abazadde birina okulowoozebwako. 
Please send us your feedback
You might also be interested in: