Communication patterns, principles, and timing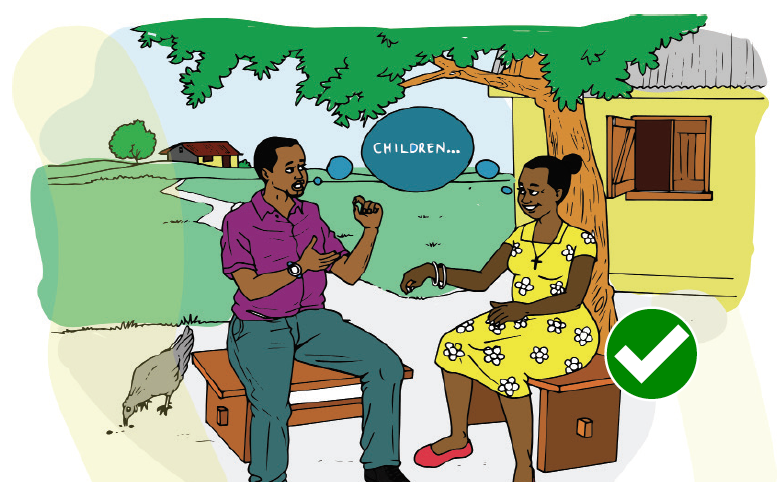 Parents should communicate and cooperate with each other
They should try to interact, communicate and cooperate with each other. Communication is essential in order to transform and adapt to a new situation.
Parents should decide together on how often they interact or communicate about their children's needs. Parents can discuss child-related issues in person on arranged times.
Examples of items to be discussed are:
The children's medical needs and educational needs;
The children's academic accomplishments and progress;
The children's personal problems;
Special events;
Personal problems that the children experience;
Major decisions affecting children;
Finances in regard to children;
Problems in parenting;
Decisions regarding children's lives;
Children's adjustment.
Amateeka, obudde n'engeri z'okuwuliziganya mu
Balina okugezaako okukwatagana, okuwuliziganya n'okukolagana. Okuwuliziganya kukulu nnyo mu kusobola okumanyira embera empya. 
Abazadde balina okusalwo bombi ku mirundi emeka gye banakwatagana oba okuwuliziganya ku nsonga y'ebyetaago by'abaana babwe. Abazadde basobola okusisinkana ne bakuteesa ku nsonga ezikwata ku baana nga bwebabeera bateeseteese. 
Ebintu ebiyinza okuteesebwako byebino: 
Okujjanjabibwa n'okusoma kw'abaana;
Ensoma n'enkola y'abaana ku ssomero;
Ebizibu by'abaana nga bo (buli omu);
Emikolo egy'enjawulo;
Ebizibu abaana bye basisinkana;
Okusalawo okukulu nga kukwata ku baana;
Eby'enfuna nga bikwata ku baana;
Ebizibu mu kukuza abaana;
Okusalwo nga kulimu obulamu bw'abaana;
Enkyuka mu baana.

 
What practitioners say
Consistent with literature research:
Communicate at agreed moments. Parents should make a plan to speak about their problems face-to-face at specific moments, rather than reacting emotionally to things as they happen.
Use positive (body) language. Parents should not be aggressive or defensive in the way they communicate. They should be open and honest about their emotions but do it in a constructive way.
Show respect. The parties should make each other feel respected in order to be able to effectively communicate.
Other suggested practices:
Where appropriate, make sure there is eye-contact – In some cultures, eye-contact encourages truth and understanding.
---
1. Abazadde balina okukozesa okwogerezeganya okuzimba mu nkwatagana zabwe zonna. Ekiba kikolebwa 
2. Abazadde tebawala kwogerezeganya mu nkwatagana zabwe. Genderera 
3. Abazadde balina okuyambagana, okukolagana era nga bakwatagana buli lwe bawuliziganya ku baana babwe. Ekiba kikolebwa 
Obujjulizi obukozeseddwa mu kulangamizibwa okusooka (1), okw'okubiri (2) n'okwokussatu (3) busangibwa ku mukuttu ogwa www.hiil.org/projects/ugandafamily-justice-catalogue 
Enkola ezisinga obulungi abayambi mu Uganda ze bagamba 
Ziri ku mulamwa n'okunonyereza okuli mu biwandiiko 
Bawuliziganye mu budde obukkanye kko. Abazadde balina okuteesa n'okukkanya ddi lwebanasisinkana bayogere ku bizibu byabwe mukifo ky'okuleka ebintu bibereewo olwo baalyoke baddemu.

 

Bakozese olulimi (olw'omubiri) oluyamba. Abazadde tebalina kubeera bakambwe mu ngeri gye bogerezeganya. Balina okubeera abaggufu era ab'amazima ku ngeri gyebawulira mu, naye bakikole mu ngeri ezimba.

 

Besseemu ekitiibwa. Buli luyi lulina okussa mu mune ekitiibwa olyo balyoke bogerezeganye mu ngeri eyamba.

 
Enkola endala eziyinza okukolebwa: 
Wekyetagisiza, kakkasa nti bekkaliriza amaaso

 
– Mu buwangwa obumu, okwekkaliriza amaaso kisobozesa amazima n'okutegeera. 
Resources and Methodology
During the orientation process of the available literature, we were able to identify the following interventions:
Mutual constructive communication
Demand/withdraw communication
Mutual avoidance
Mutual constructive communication is interactive, involves constructive problem-solving and focuses on avoiding conflict (Handbook, p. 203). Both parties try to engage in a mutual adaptive discussion (Diamond, p. 202). Demand/withdraw communication involves a pattern where one partner pursues more closeness and contact, while the other partner desires more distance and responds by withdrawing and avoiding (Handbook, p. 203). Mutual avoidance is typified by both partners avoiding communicating as much as possible (Handbook, p. 203). For the purpose of this topic, 'mutual constructive communication' will be compared with both 'mutual avoidance' and 'demand/withdraw communication' simultaneously.
For the parents and children, is mutual constructive communication between parents more effective than mutual avoidance for their well-being?
The databases used are: HeinOnline, Westlaw, Wiley Online Library, JSTOR and Taylor & Francis.
For this PICO question, keywords used in the search strategy are: communication, spouses, patterns, rules, timing, divorce, children, relationship, parent.
The main source used for this particular subject is The Handbook of Family Communication, edited by Anita L. Vangelisi. Three chapters have been used in particular, these being:
Chapter 9, Communication in Divorced and Single-Parent Families, Julia M. Lewis, Judith S. Wallerstein and Linda Johnson-Reitz
Chapter 13, Mothers and Fathers Parenting Together, William J. Doherty and John M. Beaton
Chapter 19, Communication, 'Conflict and the Quality of Family Relationships', Alan Sillars, Daniel J. Canary and Melissa Tafoya
Other sources used:
Diamond and Brimhall, Communication During Conflict: Differences Between Individuals in First and Second Marriages (2013)
Guy Bodemann, Andrea Kaiser, Kurt Hahlweg and Gabriele Fehm-Wolfsdorf, Communication patterns during marital conflict: A cross-cultural replication (1998)
The Handbook of Family Communication presents an analysis of cutting-edge research and theory on family interaction. It integrates perspectives of researchers and practitioners. Chapter 9 is mostly based on large-scale observational studies, and a few meta-analyses that help to understand what happens when families separate. Chapter 13 and 19 mostly rely on observational studies. Evidence can be regarded as being low to moderate.
Desirable outcomes
Communication between parents becomes more difficult and energy consuming after separation. Unexpected and overwhelming demands after separation results in less communication by the parents. Parents will need to communicate more often and effectively, so that the parenting styles of both parents are consistent (Handbook, p. 204). Research shows that mutual constructive communication is generally designated as the healthiest, most functional interactive pattern. Separated parents must be willing to interact, communicate and cooperate with each other regarding child-related issues, despite any feelings of rejection, remorse, bitterness, or anger. This is because parental responsibilities after separation continue to exist, and communication is essential to transform and adapt to accommodate to parents' new roles (Handbook, p. 204).
The ability of separated parents to co-parent together, communicate about their children, to cooperate to set limits, to problem solve effectively and to provide consistent positive affective messages has a major influence on the ability of children to adjust after separation (Handbook, p. 205).
Undesirable outcomes
Mutual avoidance communication prevents the airing of thoughts and feelings surrounding relationship problems and impedes movement towards resolution (Diamond, p. 199).
Both avoidance and demand/withdrawal communication are correlated with lower relationship satisfaction (Bodenmann, p. 354).
Balance of outcomes
between parents is more effective than mutual avoidance, for their well-being, the desirable and undesirable outcomes of both interventions must be considered.
The literature suggests that mutual constructive communication between parents is in the interest of the child. On the other hand, mutual avoidance and demand/withdrawal communication are correlated with lower relationship satisfaction and a lack of ability to move towards a resolution.
The balance is clearly towards the desired outcomes of mutual constructive communication.
Recommendation
Taking into account the balance towards the desired outcomes, the effect on children's well-being and the strength of the evidence, we make the following recommendation: For the parents and children, mutual constructive communication between parents is effective than mutual avoidance, for their well-being.
Please send us your feedback
You might also be interested in: